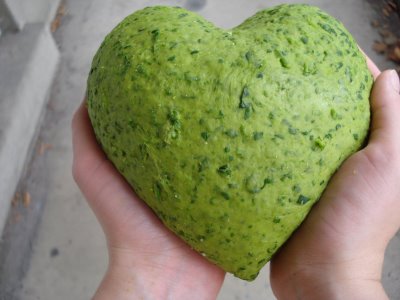 Big green heart blob = spinach pasta dough
Wait, where did we get this meme idea from? I don't know who to attribute this to. Oh well, I'm too tired right now to look it up ... next time.
Here's some love I felt this past week:
buying books for friends and tracking their shipping progress online
the best turkey burger ever at Red Robin this weekend with a new friend
said burger was followed by a wonderful college production of Into the Woods at Creighton University
hearing friends (that's you Micki) tell me they have started following my blog and are actually enjoying it
LIBRARY BOOK SALE! (volunteering and browsing)
hearing my EEB's plans for my trip to visit her next month - Oh the anticipation!
feeling happy ... with myself and with my life
succeeding with my basic knowledge of HTML
my beautiful new room and my gorgeous purple closet
finishing my blog post before 11 PM!